Chuck Wagon Racing
May 27 & 28, 2023
Starting at 1:00 p.m.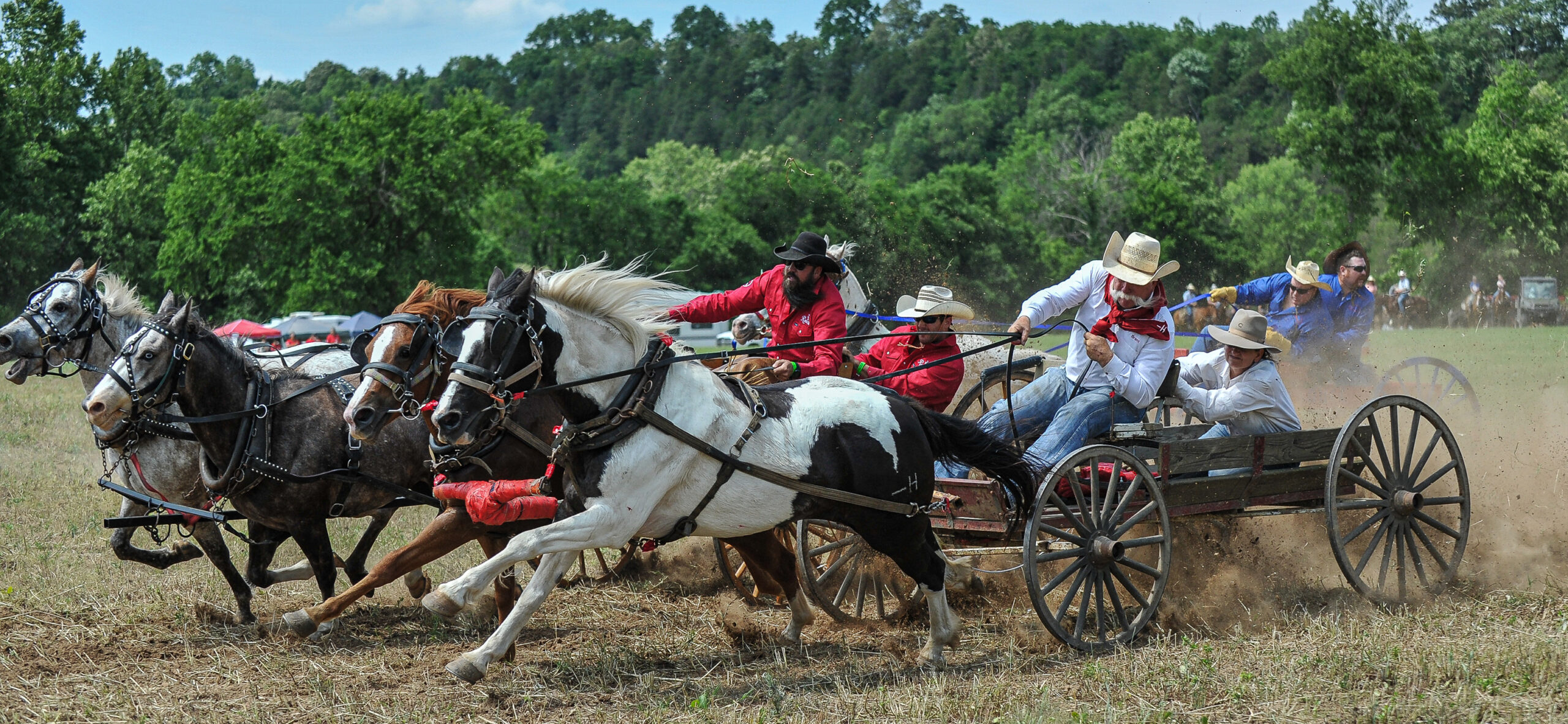 Racing Divisions:
BUCKBOARD – WHEELS MUST BE AT LEAST 24" TALL NO BALL BEARINGS.  TEAM NAME MUST BE DISPLAYED O THE BUCKBOARD.  WAGON MUST WEIGH AT LEAST 500LB. WITH OUT THE DRIVER OR COOK.  PONIES MUST MEASURE 52" OR LESS.
MINI CLASSIC – WAGON MUST WEIGH AT LEAST 300LB. WITHOUT THE DRIVER.  WHEELS MAY BE WOOD OR IRON AND MUST BE AT LEAST 24" TALL, BED 7FT. LONG BY 3-4FT WIDE, SIDEBOARDS 6" – 12" TALL WITH 4FT. TARP.  THESE WAGONS SHOULD LOOK LIKE MINIATURE CLASSICS.  BALL BEARINGS ARE ALLOWED IN THESE WAGON WHEELS.  PONIES WILL BE NO TALLER THAN 46".
CLASSIC – ORIGINAL UNDERCARRIAGE OF ANY BRAND WAGON.  WOODEN OR IRON WHEELS ONLY.  BED LENGTH – 10′ 6" SIDEBOARD18" TO 24" MADE OF WOOD.  TARP 7'6" ON BACK OF WAGON, WOODEN WATER BARREL (ANY SIZE), TOOL BOX; LANTERN (HANGING FROM BACK BOW), SKILLET AND COFFEE POT (HANGING FROM BACK OF THE BED).  TONGUE MAY BE MADE FROM PIPE AND BRAKES MAY BE REMOVED.  WAGON MUST WEIGH 1000LB. WITHOUT DRIVER OR COOK.
ALL WAGONS MUST BE WEIGHED & ALL PONIES MUST BE MEASURED BEFORE RACE
WEIGH & MEASURE FRIDAY EVENING TBA AND SATURDAY MORNING TBA
RACING DIVISIONS:
BIG MULES
BUCKBOARD
CLASSIC
MINI CLASSIC

RACE RULES:
* ALL TEAM MEMBERS WILL WEAR MATCHING LONG SLEEVE SHIRTS & COWBOY HATS.
* THE BOX, BEDROLL, DRIVER AND COOK MUST BE IN THE WAGON WHEN IT CROSSES THE FINISH LINE
*  OUTRIDER MUST FINISH AHEAD OF THE TEAM AT FINISH LINE
* OUTRIDER FOR THE LAND RUSH TEAMS WILL BE MOUNTED AND DO NOT HAVE TO FINISH AHEAD OF THEIR TEAM.
* NO WHIPS WILL BE ALLOWED ON THE TRACK.
* EVERY TEAM WILL TURN LEFT, EXCEPT THE LAND RUSH. YOU WILL MOVE ONE BARREL UP TO THE RIGHT FOR THE NEXT DAYS LINE-UP.
* JUDGES AND TIMERS RULING WILL BE THE FINAL WORD
* NO PROTEST WILL BE ACCEPTED OR CONSIDERED ONCE JUDGES DECISION IS MADE
THE RULES COVERING THIS EVENT ARE MADE IN FAIRNESS TO ALL THE CONTESTANTS CONCERNED; THE JUDGES HAVE THE RIGHT TO CHANGE OR ADD TO THESE RULES IN ORDER TO COVER AY SPECIFIC CASE IN THEIR OPINION THE RULE AS PRINTED DOES NOT MEET THE SITUATION.
For information contact – Ricky Crabtrey 501-743-6292